Whether you need packing tips for your holiday travels or are planning holiday fashion outfits for your Christmas weekend, The Crystal Press has you covered with ideas to make the most out of your wardrobe this holiday!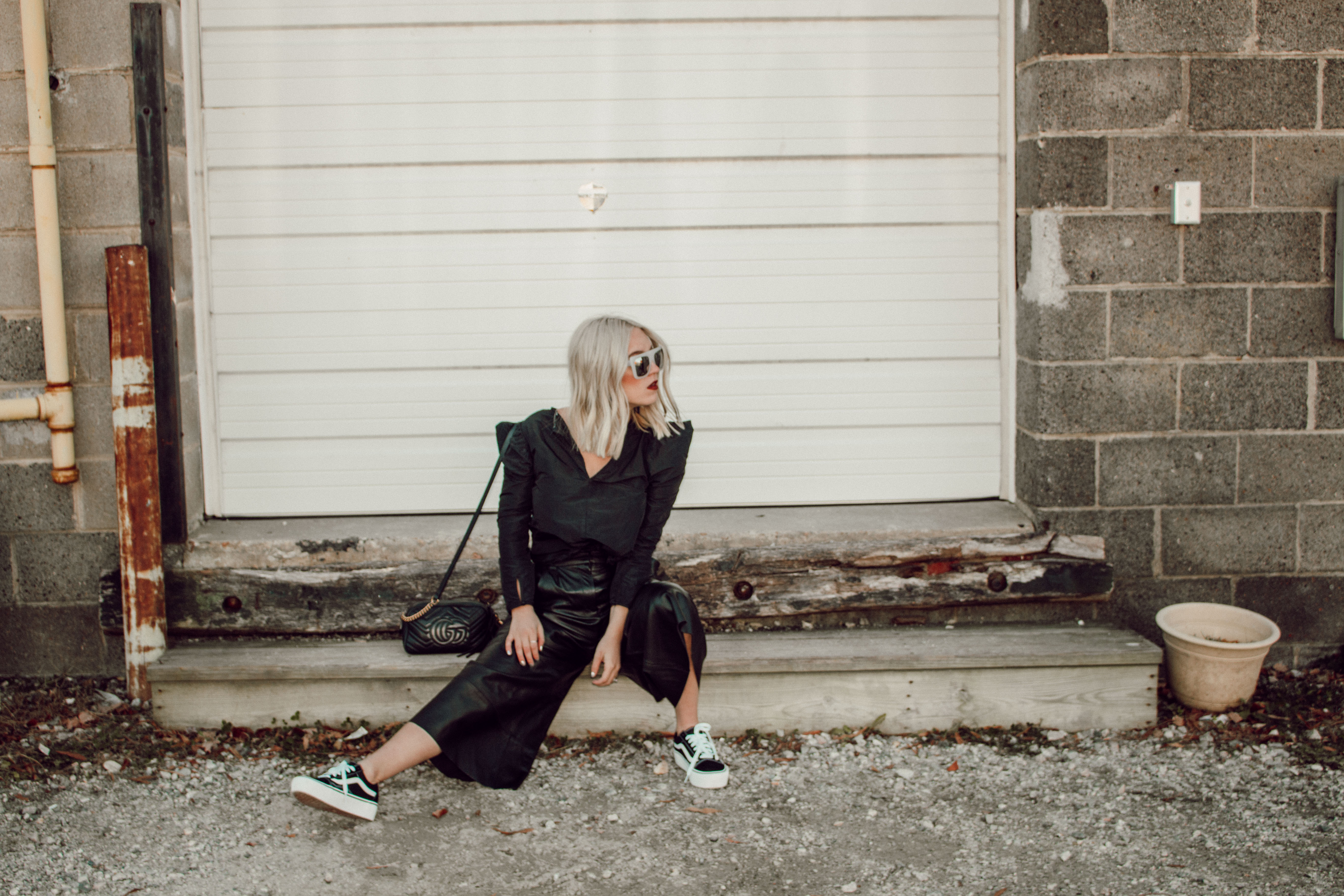 We are less than a week away from Christmas. What the!
Yes, I have been watching Christmas movies basically every night since Thanksgiving (which I'm sure you guys have seen on my cathclaire instastory nonstop), but being so festive this year REALLY made time fly by super fast. Does anyone else feel this way?
This is the first time since college that I am traveling for Christmas AND it's my first Christmas with Kevin as husband and wife! **If you are new here, Kev and I just got married 6 months ago – you can see more about the cathclaire wedding here!**  I am so excited to pack (this is DEF a first….)  and share packing tips for a getaway this holiday season with family!
Plan Ahead: This may sound like a no-brainer when it comes to packing tips, but if you ask me, it's even more important when packing for the holidays. Not only are you traveling with gifts so the extra space is key, but you are also probably traveling to spend time with family or friends. If you plan ahead and get clear about what you may need while on your trip, you will avoid forgetting an essential item and wasting precious time scrambling to get an outfit together or for something you need vs enjoying time carefree with your people!
Maximize Space in Your Suitcase: Towing gifts to your destination can take up a lot of space when packing, especially if you are flying. One of our favorite packing tips we just learned? To make the most room in your suitcase, roll your clothing. Not only does this maximize space but it also creates much less wrinkles. Doesn't that sound amazing?
Pick a Neutral Color Outfit Base: The Crystal Press is a huge fan of packing a neutral outfit base (think black, white, camel, navy), whether we are traveling to fashion week or home for the holidays. Packing with one main color in mind allows you to interchange pieces throughout your travels for different events without overstuffing your suitcase. Getting off the plane to meet friends for a fancy welcome dinner? Throw a blazer over your airplane get-up and trade out your flats for heels.  My go-to neutral base for this trip (and pretty much always) is black. I am going to be packing everything in this outfit post for my holiday travels – these leather culottes from ASOS are the most versatile piece I own right now and not to mention super comfy. I love how they pair with this old skool Vans and also can be dressed up with black heels for a night out or church with the family
Keep Essential Items In Your Carry-On: If you are like me and can't seem to travel without checking a bag – be sure to use this packing tip when traveling! Holiday travel can get crazy because it is such a popular time to jet-set so be prepared. Nothing is worse than getting to your destination without your necessities and essential items and especially during such a special time like the holidays!
Find Your Favorite Luggage / Suitcase Brand: This is something Rebecca and I have been shopping alot for with all of the traveling we have been doing the past few years. Here are a few of our favorite suitcase and luggage brands we are shopping right now!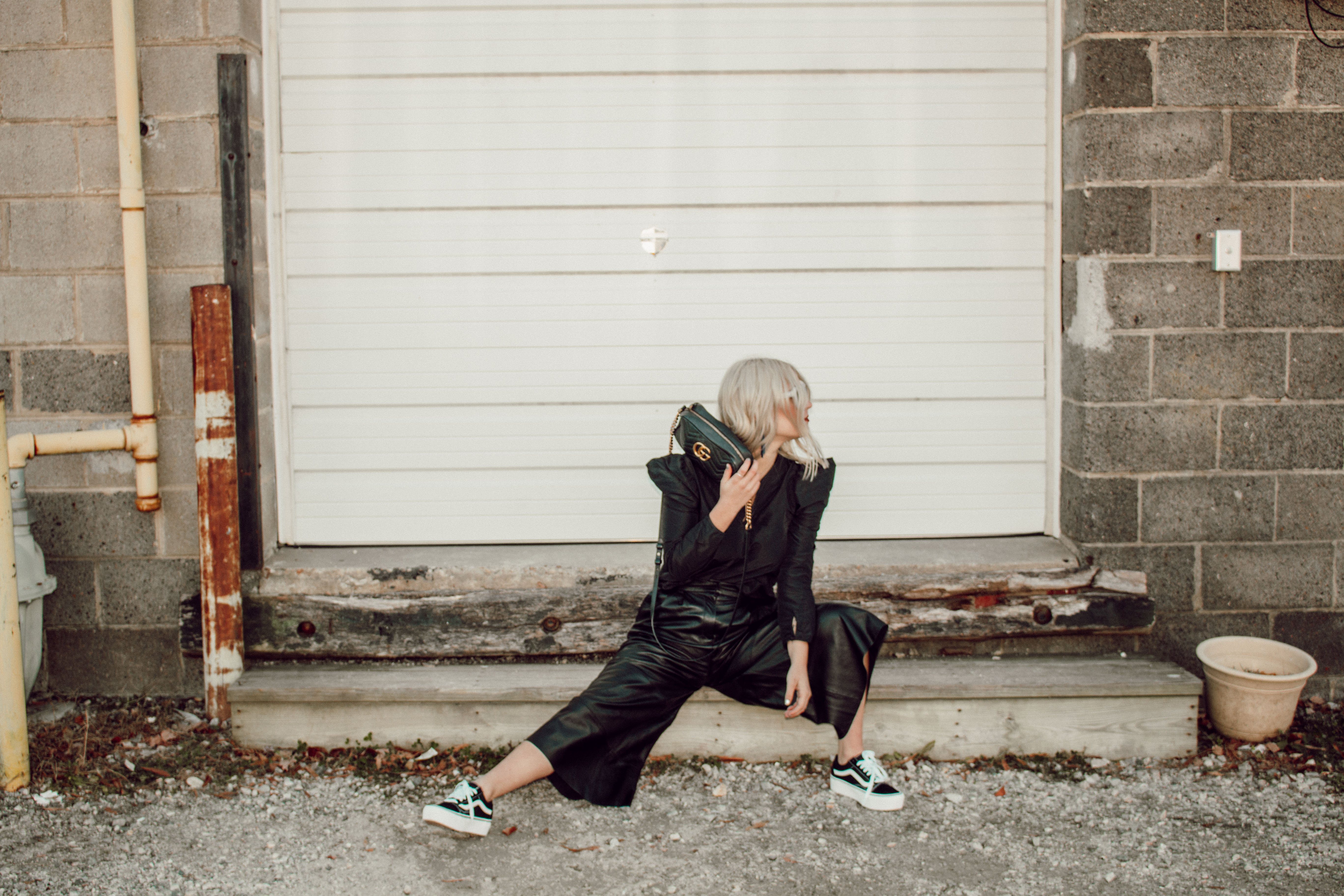 For all of you that are going away this holiday, I wanted to share my packing list / packing tips and how I maximize the room in my suitcase without sacrificing fun fashion-forward pieces. I am packing a lot of black for my holiday getaway to Kansas City, following the neutral base packing tips listed above. Having one neutral color as a theme for the base of your outfits while traveling is a great way to mix and match pieces, as well as easy to layer.  I am packing these leather culottes pictured in this outfit post that I scored on Black Friday from ASOS, a couple of casual black sweaters and t-shirts, my black Jeffrey Campbell boots, and 2 coats. I love having all black as the base for traveling because it prevents me from overpacking (usually things I won't wear anyways. Ask Rebecca, I am an insane overpacker….this post is as much for me as it is you guys lol) aka maximizes the room in my suitcase for statement coats and accessories….and gifts! I am going to pack my green star faux fur and my big red coat that makes me look like Mrs. Clause. You didn't think I was going to pack all black and hide my festiveness this year, did you?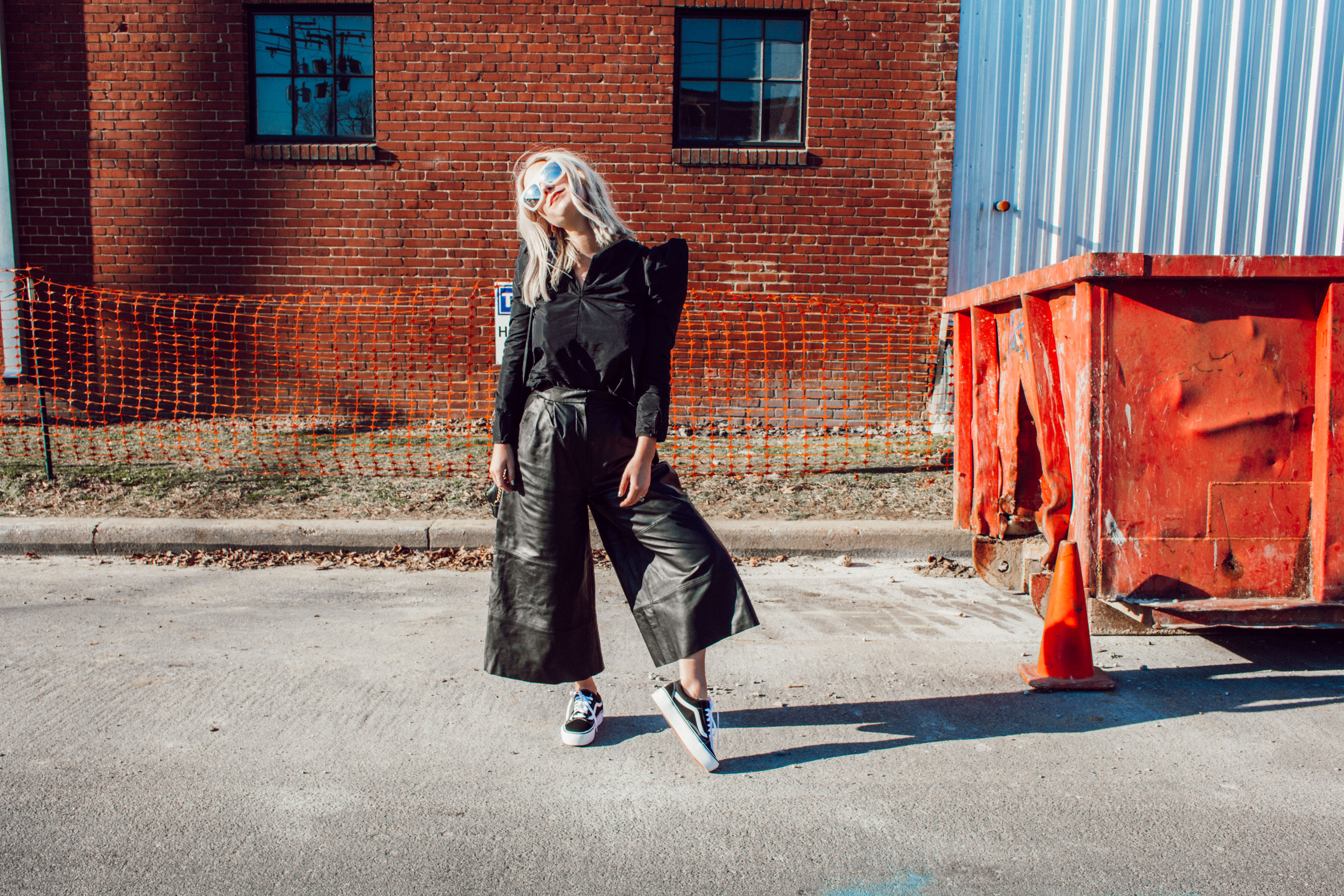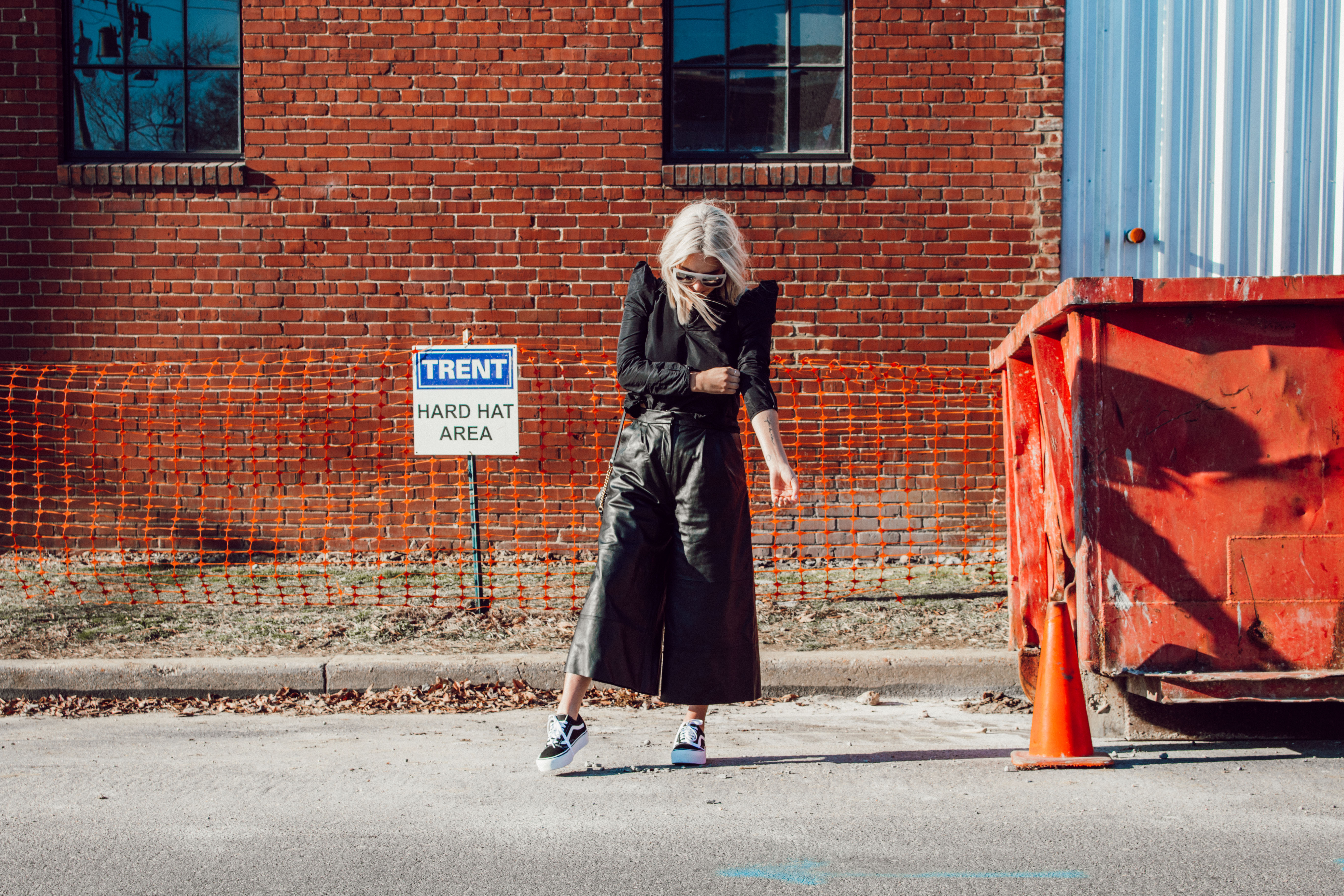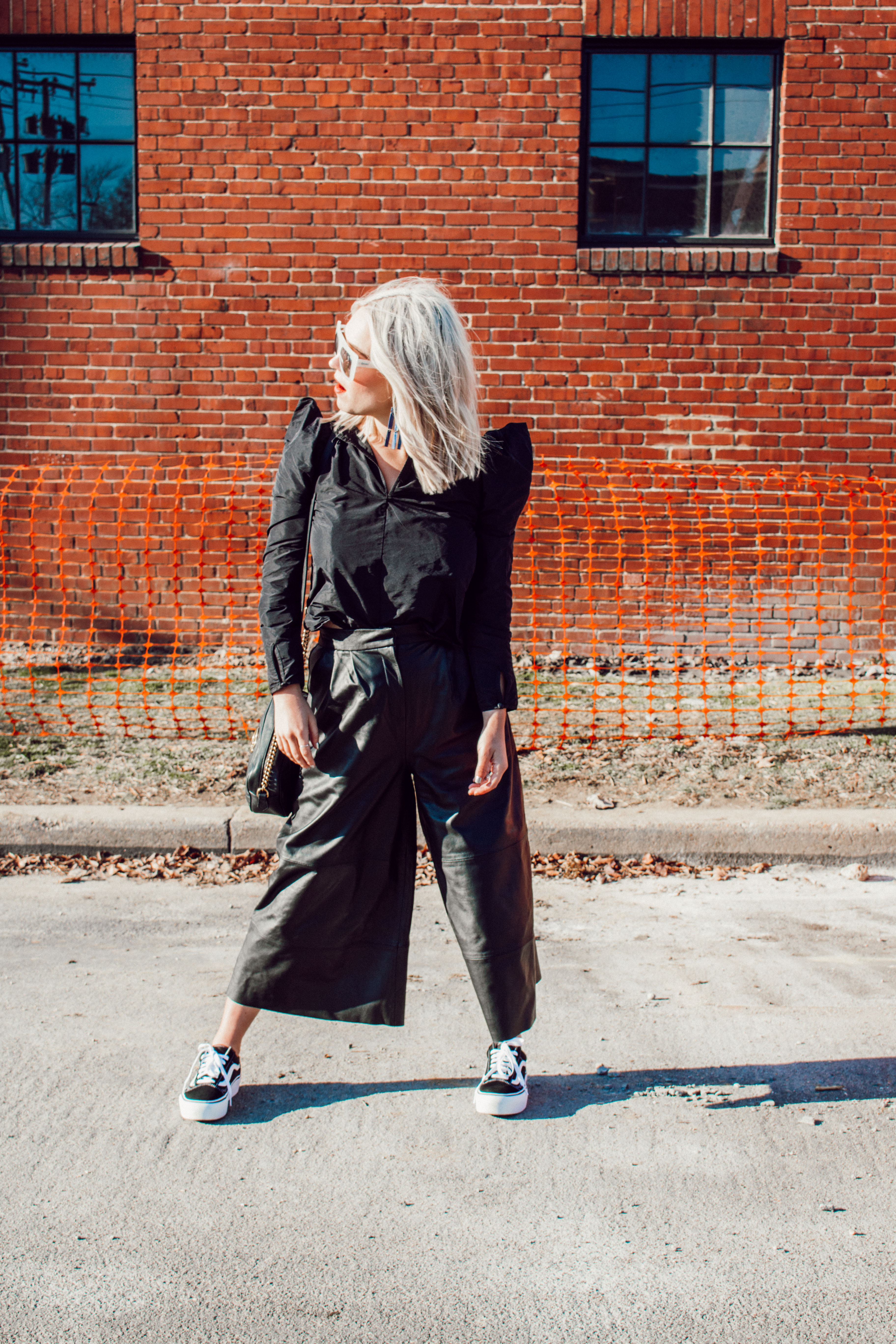 Shop My Outfit:
Top: Miss Selfridges (similar here) / Bag: Gucci Marmont Mini Camera Bag / Sunglasses: Quay Austrailia Cafe Racer in White and Silver / Shoes: Vans Old Skool Platform Sneaker /  Leather Culottes: ASOS